$78.8 Million was the amount of money Gary Thurek, a common employee made from sending out a message to 400 people in May 1978
This Singular Act Has Gone On To Make a Shitload Of Money For Business Owners Across The World and is now in the World Guinness Book Of Record
Now! After Thousands Of Nigerians Lost Their Means Of Livelihood due to the Twitter Ban,
Marketing Consultant who has made over half a million in sales for business owners in Nigeria and beyond reintroduces…
THIS 48-YEAR-OLD PROVEN METHOD Is The ONLY WAY TO TAKE FULL CONTROL OVER YOUR BUSINESS AND MULTIPLY YOUR SALES BY CONVERTING MERE CUSTOMERS TO ADDICTS WHO KEEP ASKING FOR MORE OF YOUR PRODUCT
It is as simple as writing a Text message or WhatsApp message 3 or 4 times a week
And this is the reason Business Owners All Over The World Are Making Over $9 Billion in sales
July 2021
Lekki, Lagos
Nigeria.
The dependence of Nigerian business owners on social media is quite alarming,
Especially since the current Nigerian Government is highly unpredictable.
They have done all manner of things in the past 2 years to show that you can not leave them in control as a business owner…
From allegedly murdering innocent lives in the End SARS protest to banning cryptocurrency, to proposing a social media regulation bill
And now, the government has banned Twitter.
What's next? Instagram? Facebook? Social media as a whole?
Impossible right? Well, it isn't.
Countries like China don't use Gmail or WhatsApp, talk more of other social media platforms that are not as essential as these two.
You're denying the possibility? Well, who believed Nigeria could coerce Telecom companies into banning Twitter?
And immediately after that, the government met with China concerning the regulation of social media.
This present Government doesn't provide jobs for the average Nigerian woman and man,
This present government couldn't even enforce the proper distribution of palliatives, we had to steal what was given to us by the World Health Organization and others…
They don't care about us and don't give us anything, yet it is crystal clear that your means of livelihood are under serious threat if you make money through social media.
It is only a matter of time. 
Business owners in Nigeria need to guide their means of livelihood.
If you use social media to make money,
If you use social media to showcase your skills and you're on the verge on monetizing it,
You need to understand that your finances are threatened and you need full control over our business.
You shouldn't even have to leave your business in the hands of Mark Zuckerberg (If Instagram, Facebook and WhatsApp – owned by Mark Zuckerberg decides to go off, you lose the business that feeds you)
On March 19, 2021, Instagram, Facebook and WhatsApp stopped working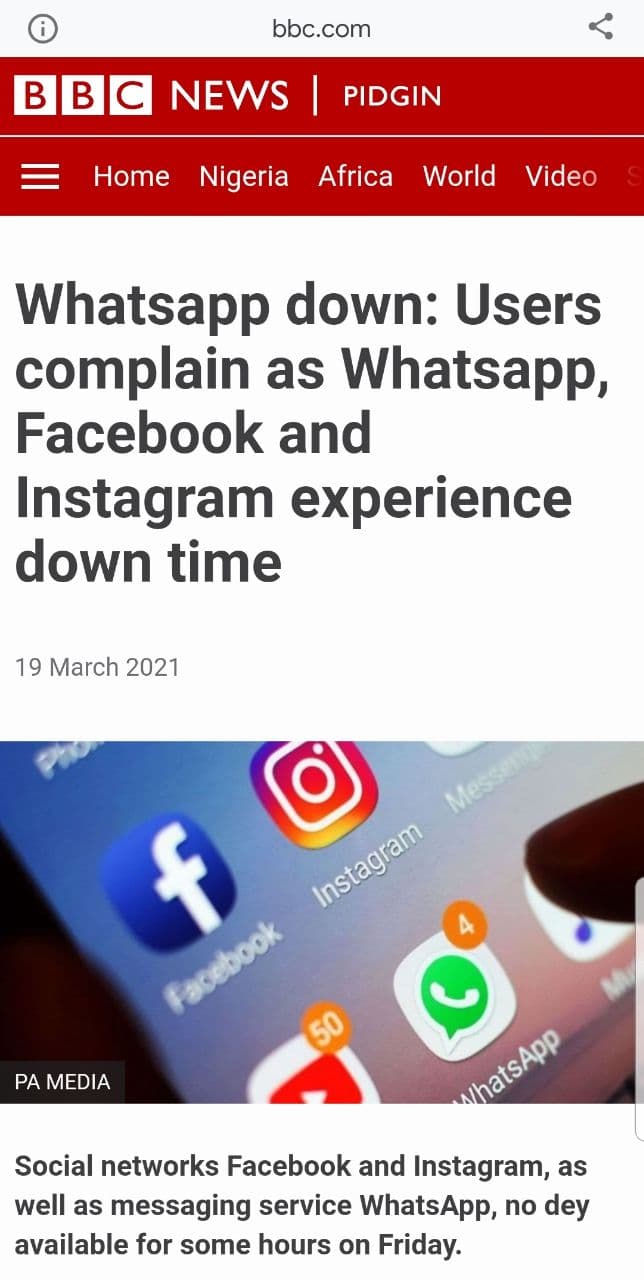 For those minutes it stopped working, hundreds of thousands of transactions were put on hold across the three platforms combined.
This total dependence on one man shouldn't be so.
Your business will keep standing on one foot.
You need full control over what feeds you.
If you're business owner who knows his or her onion, you will know Facebook changes its policies from time to time.
Google flatlines your influx of customers anytime they desire one thing or the other isn't placed well.
You're simply renting space in whatever platform your business currently exists…
And the only way to take full control to make sure no one can take your business a way from you or determine if you eat is this 48-year-old proven method.
Two qualities make it more interesting:
The EASE: It is just like sending a simple WhatsApp message 3 to 4 times a week.

It will bring in a shitload of money for you because it doesn't only give you that total control over your business, it multiplies your income like wildfire and I will give you the details in a moment
Before I tell you about the Proven Method of taking total control over your business and multiplying your sales life wildfire,
I need to put a face to this…
I have been called a marketing god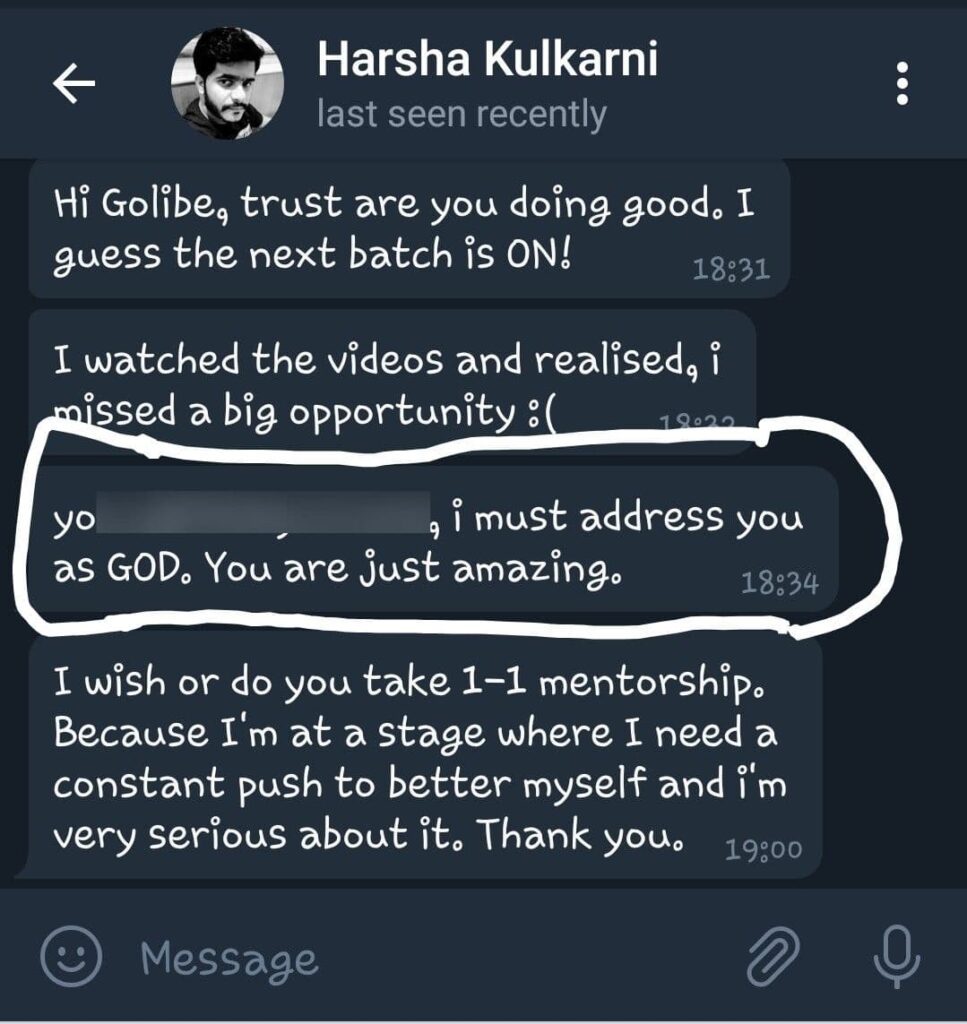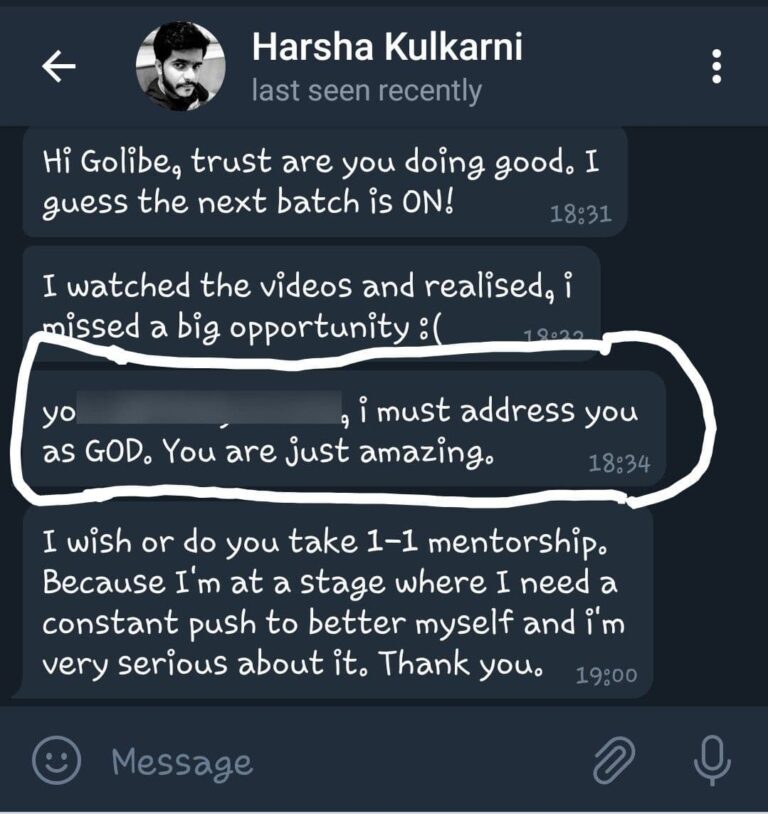 I have been called a great teacher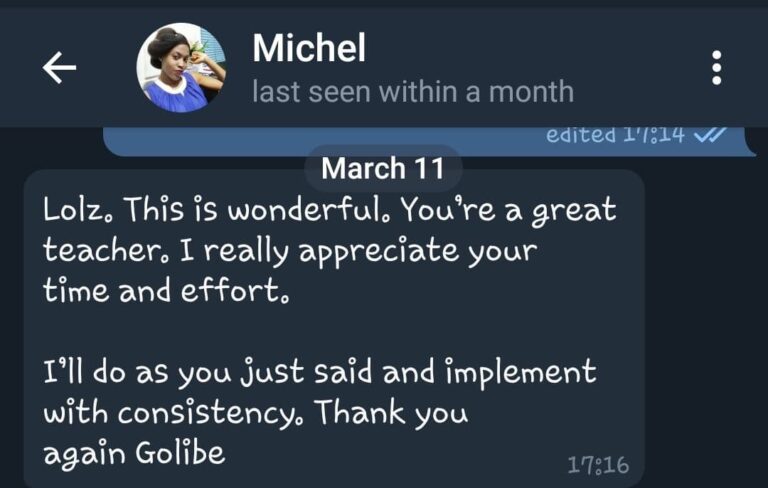 I have been called a legend
My ability to use marketing strategies that make customers remove money from their pockets and put it in the pocket of my clients have also earned me terrible names by some michievious Americans, names like a devilish genius,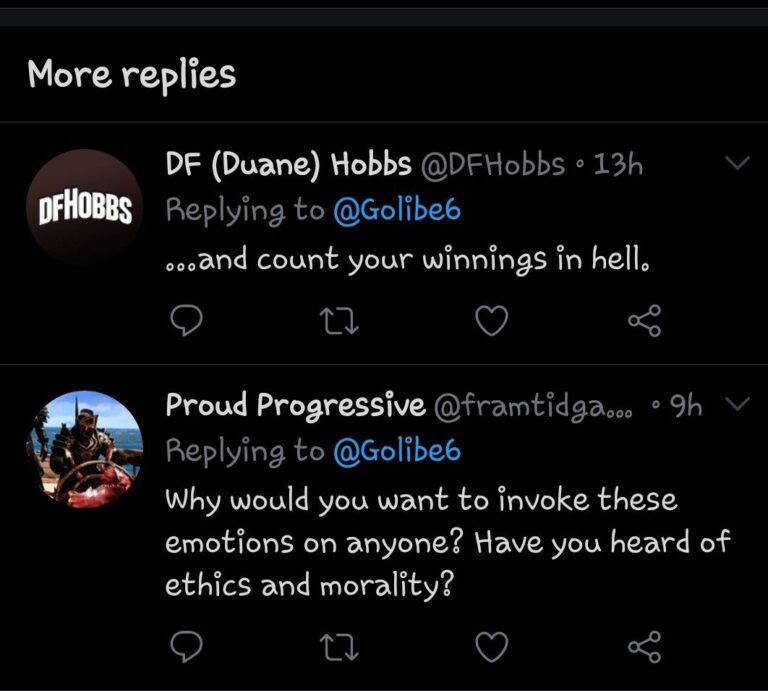 But for me these sort of comments are the best…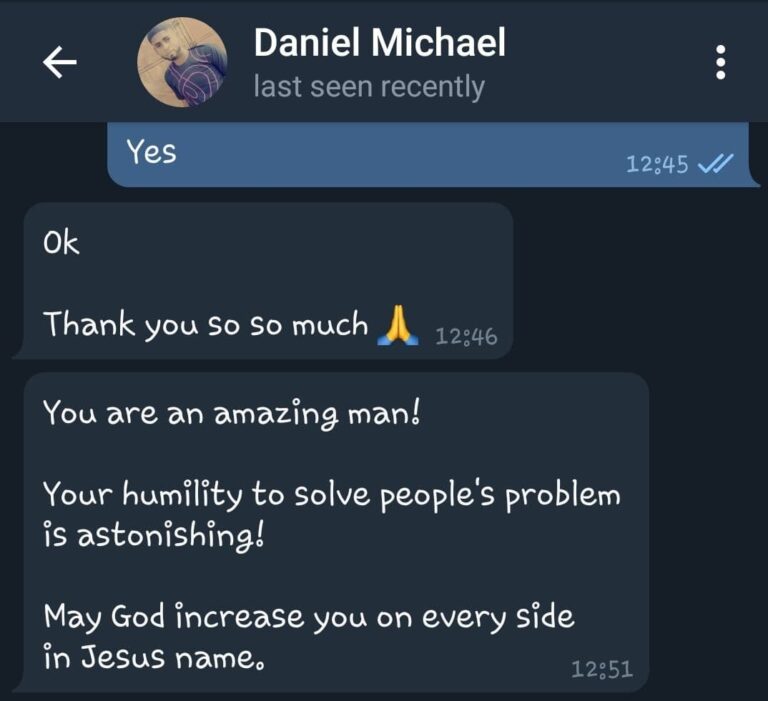 I will not like to bore you with a lot of screenshots as this is not about me, let me tell you what a business owner like yourself needs to know…
I'm Golibe,
Golibe Ilechukwu, and I am a marketer & copywriter…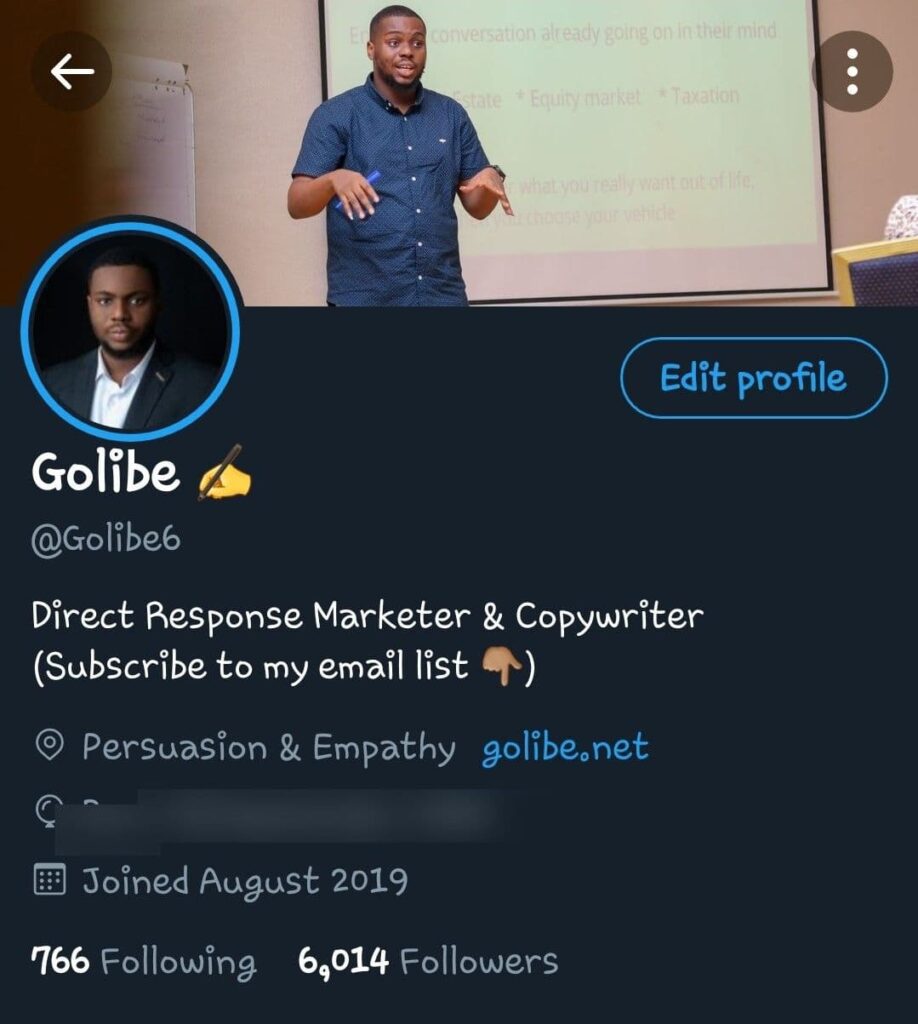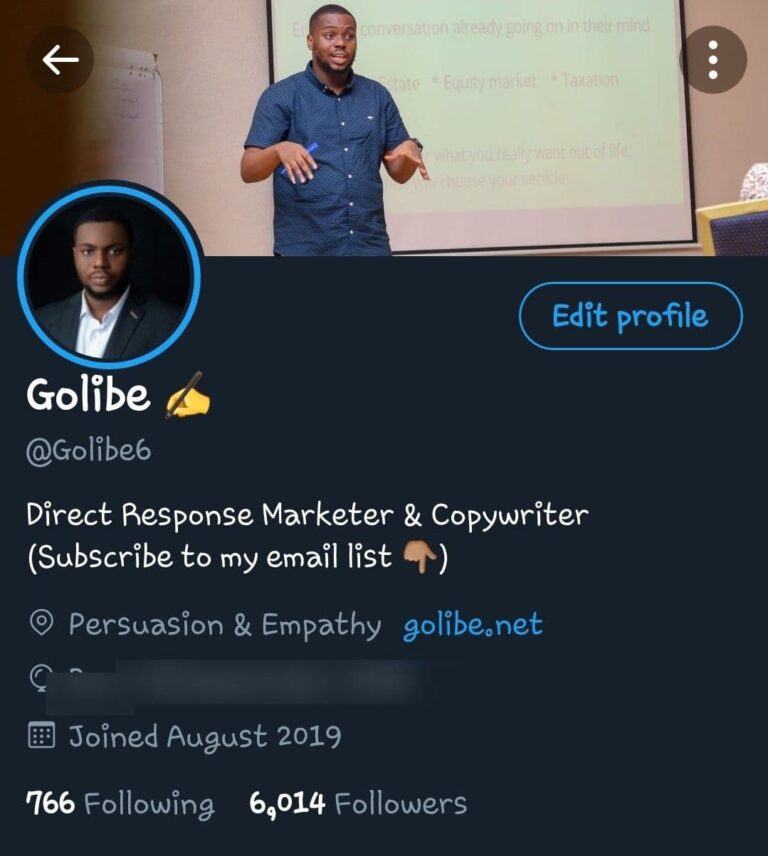 I have consulted for businesses like…
Aproko Doctor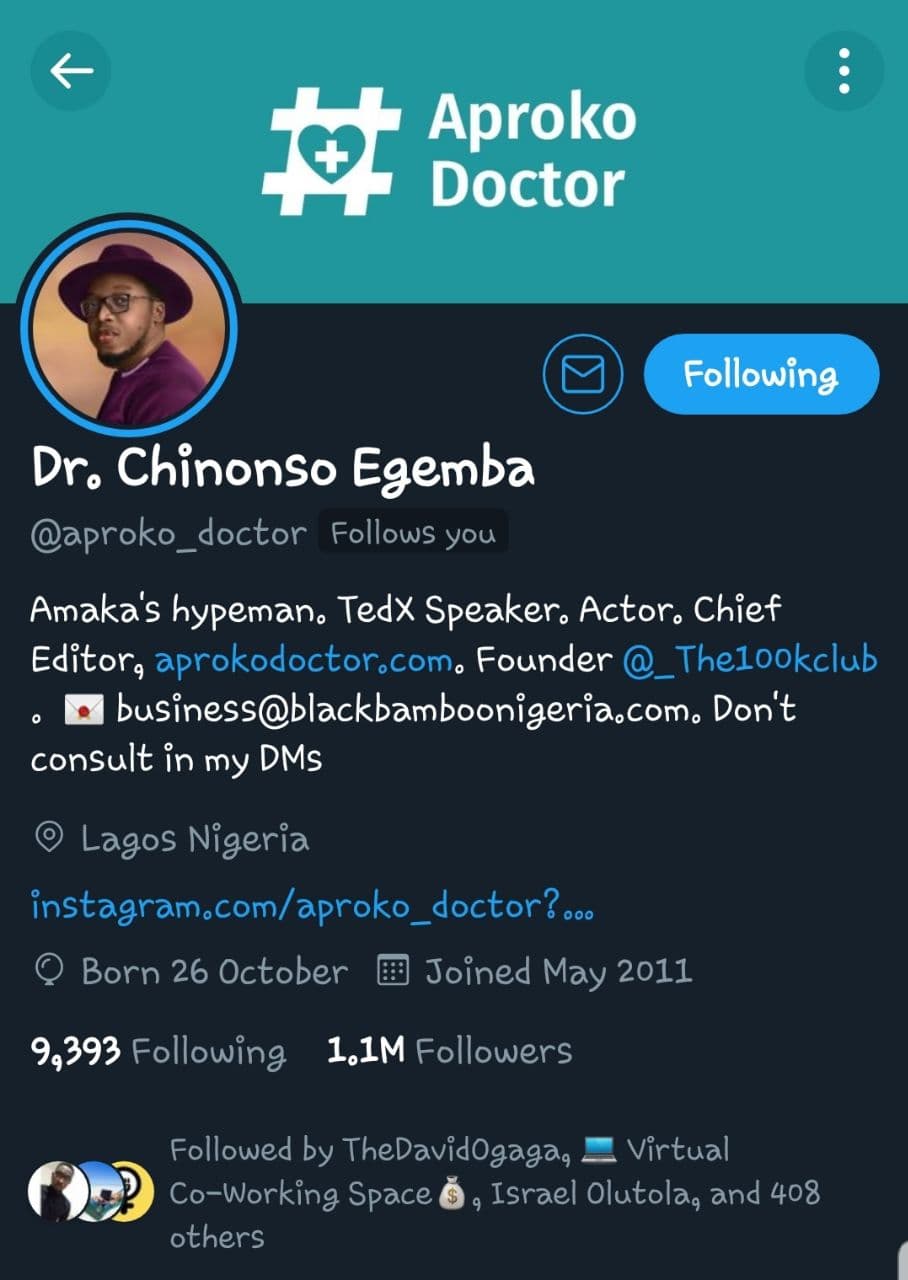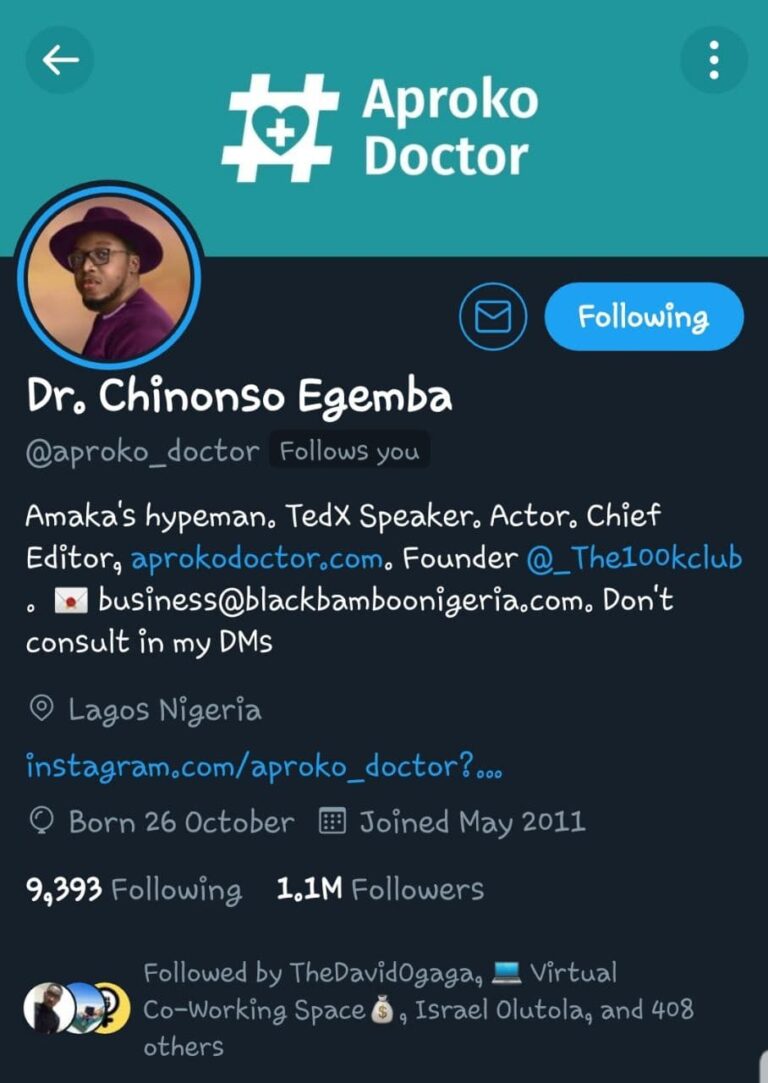 Instagram sensation, HEALTH SPY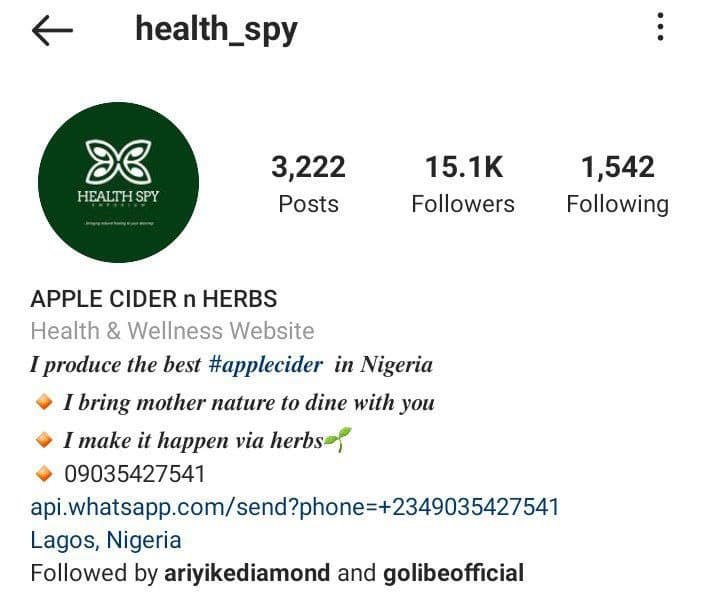 Microsoft and Huawei Nigerian partners, DiroSystems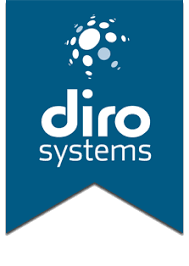 Italian Tech Brand, Intelligent Hack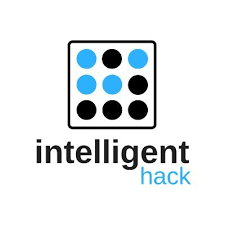 And a host of others…
Bringing in money for these businesses and myself over half a million dollars in sales
Myself? Yes
You see, I created a community of not just buyers but addicts who can't do without hearing from me periodically…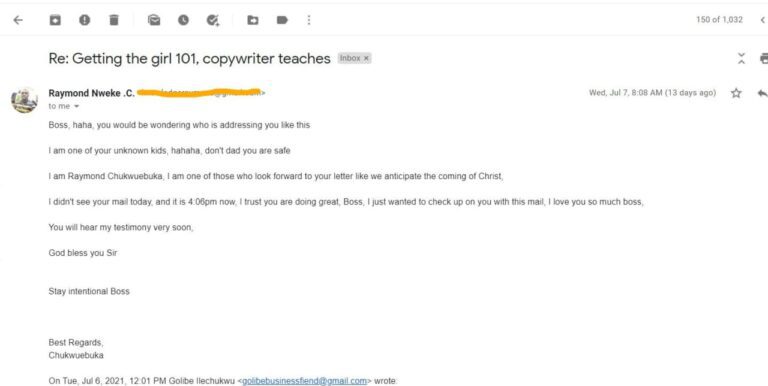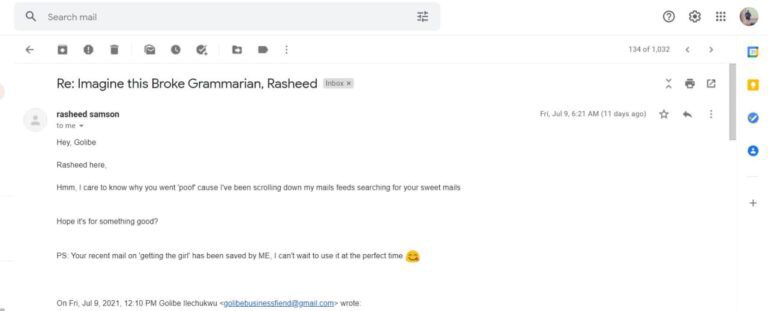 Just like cocaine, I have been able to keep them longing and coming back for more.
And selling to my addicted customers is seamless.
Their buying resistance is low.
They see my product as a must have as something they can't do without.
I launched a simple product in May into June and it sold out like wildfire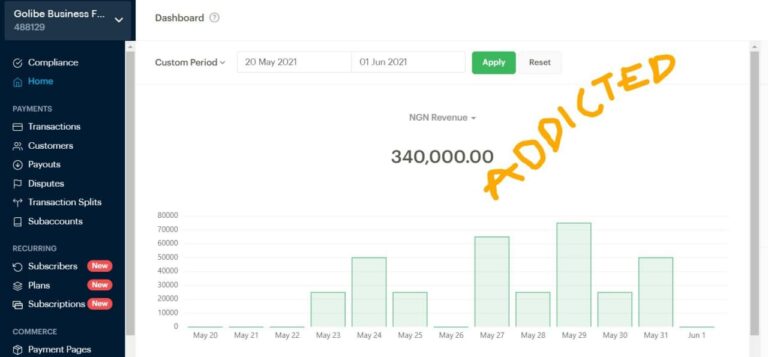 I launched another in June into July and it did wonders…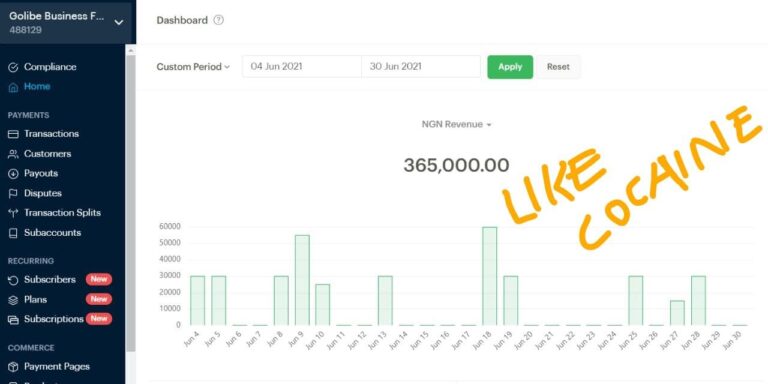 You see, turning mere customers into addicts and multiplying your sale is THE ONLY WAY
But I didn't invent this, this has been existing for 48-years and it was first carried out by Gary Thunerk in May 1973, he sent out a message and it brought in 13.4 million that is today's equivalent for 78.4 Million after checking inflation
Just one message
Just one
With that singular act, Gary invented what we know today as Email marketing
His name has now been put in the Guinness Book Of World Record revolutionizing mails.
You know before he did this via the internet in 1973,
Business owners used to write letters, put in an envelope and send to the Post Office
The Post Office would then process it and send it to the mail address of every resident, one by one.
When this letter gets to the intended customer, the customer most likely throws it away with even opening it.
The envelope determines if the customer reads it or not.
Special envelopes from loved ones had special stamps or were sent in pink (from a lover)
So they used this method to filter out mails from business owners.
Even when they read the letter and wanted to buy your product, they would have to:
Get off the couch

Get your chequebook out of god knows where

Write out a check

Get a coupon

Put in a new envelope
(Not talk themselves out of it)
Get a postage stamp

And then drop it in the mailbox for the mail man to take to the post office
All these just to put money in the pocket of business owners for a product.
Gary changed all that, now buyers can pay with JUST A CLICK on their phone or laptops.
Since this massive change, business owners have gone on to make billions and billions of dollars.
Obama even adopted Email Marketing for his electoral campaign which we all know the results of the election…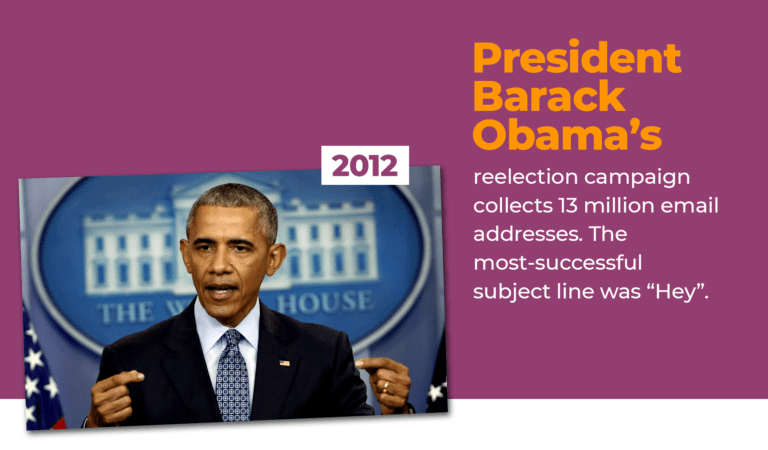 Great strategies…
Greater victories.
Forbes went on to suggest that email marketing is the future of elections because less and less people watch TVs these days and there are a lot of distractions on social media because there are millions of creators out there from dance videos to funny skits to celebrity gossips and at zero cost….
Why is email marketing such a sensation?
Australian multi-millionaire, Sabri Suby popular for his billion-dollar company and author of the book, 'Sell like crazy' once said this…
" If you had to strip me down naked, take everything I've got, and leave me with nothing except for one marketing weapon of choice, what do you think it would it be? 
My contacts? JV partnerships? Google rankings? My ability to turn ice-cold traffic on Facebook into profit? 
Nope! I would choose email! Why? 
Email outperforms every other marketing channel. 
Period. 
And one of the biggest mistakes I see businesses make is not building an email list from day one. 
Email is the bedrock of my business today. 
It's by far my #1 source of revenue. It's how I communicate with my community, launch new services, and reach my customers. 
Email is the engine that's generated millions of dollars for my business — more than every other channel we've used combined."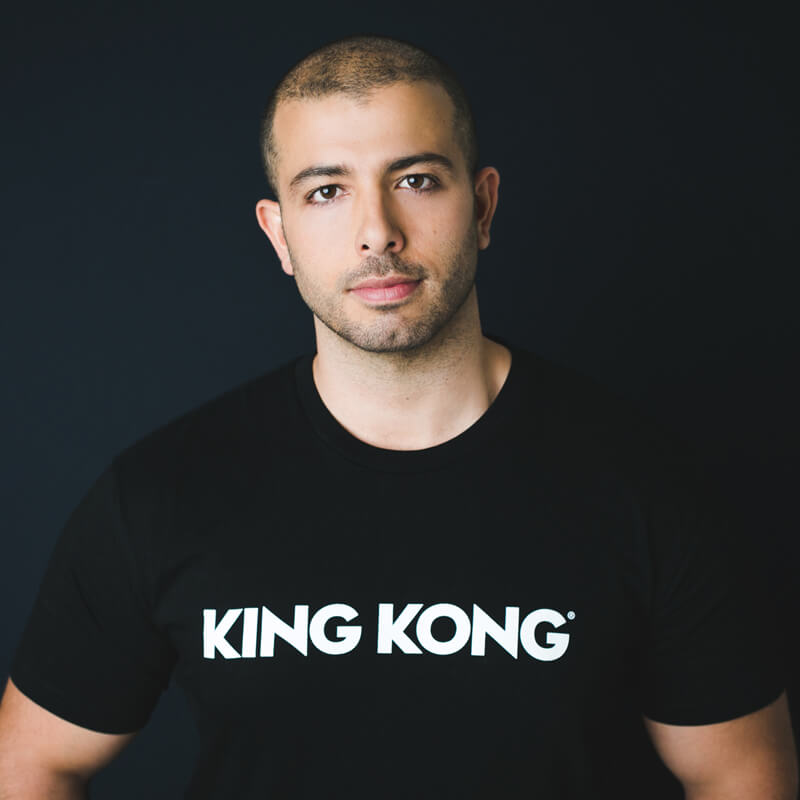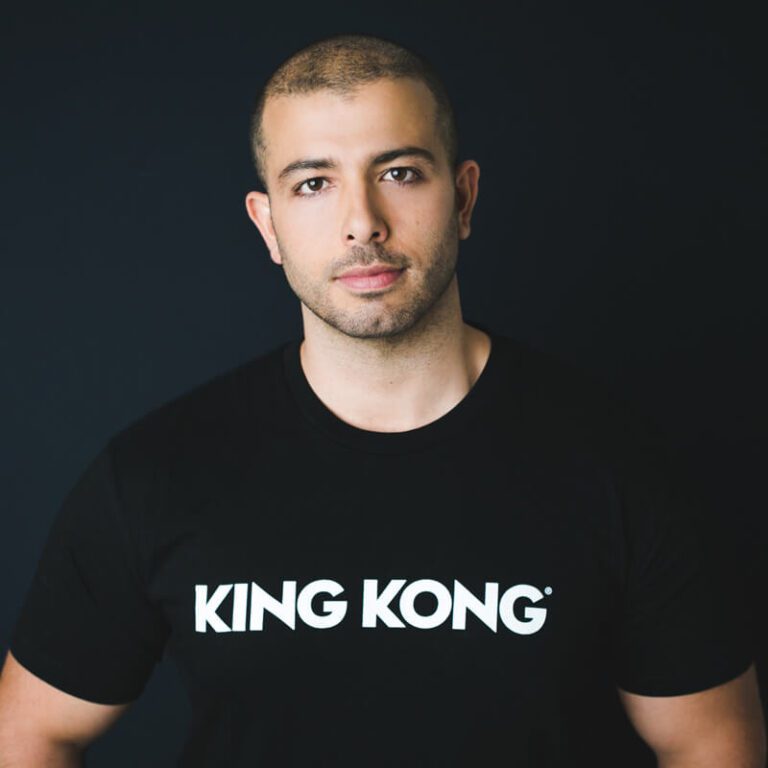 Combined… Don't miss that.
You see, the great thing about email marketing is that it puts money in your pocket and makes the customer feel loved at the same time!
It is a win-win situation.
They feel they know you on a personal level so their defense walls are down, their skepticism becomes close to zero.
They begin to relate with you on a deeper level,
You become more than just a stranger trying to sell them something on the internet, you become a confidant and a friend.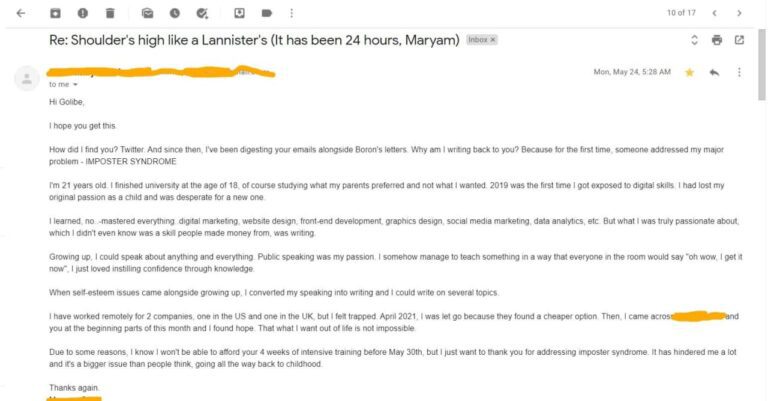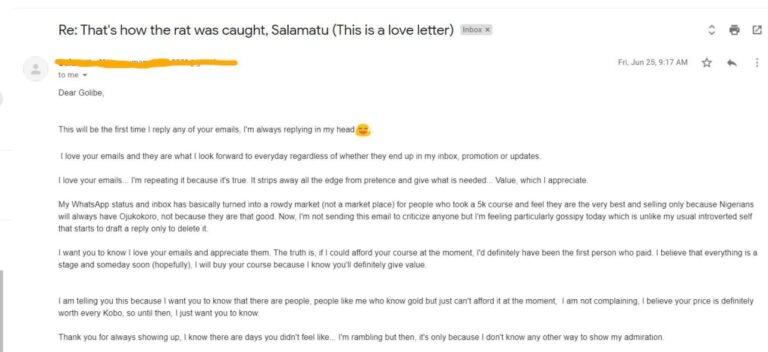 And some other super private emails I can't share
They would ask you to help them make you a priority, you don't need to beg for that…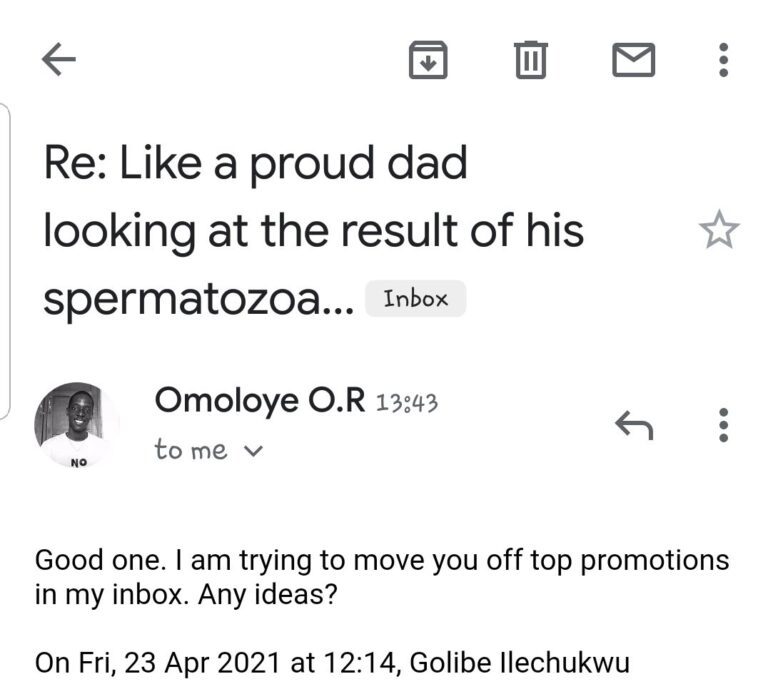 They forget your competitors even exist and become addicted to you.
They buy from you with full trust and almost no bargain.
All it requires is 30 mins of your time 3 or 4 times a week.
Just like sending a WhatsApp message or uploading a WhatsApp status.
And you will think that you need like 500 or 1,000 people to give you their email addresses before you start making a huge amount of sales from this…
The Gospel Truth is:
The money is not in the size of your email contacts,
But in the responsiveness of your email contacts
You don't need 10,000 subscribers to make insane amounts of money monthly.
Your ability to write emails that your prospects open, read, and respond to by buying or taking action all begins with learning how to:
Make people excited to read your emails even before your email drops in their inbox

Put your subscribers in a buying trance where they are HIGHLY responsive to your sales pitch.
That's all.
Email marketing is quite simple,
You DON'T need to be a good writer.
All you need is to understand how to make your customers love you like how addicts love cocaine and most importantly, BUY from you…
And that's where I can start to help out.
So if you want to learn how to tell stories that make customers vulnerable to you…
If you want the rare ability to make sales and close new deals practically every time you send out an email…
If you want to sell out like wildfire to people who have developed deep trust for you in this ever-skeptical Nigerian business culture…
If you want to do all these while having total control over your business, not leaving it in the hands of someone else…
Then this is for you…
INTRODUCING
The 2 Weeks Total Control Program
In this program,
I will be holding your hands like a mother holds her toddler and guiding her through her first steps,
I will guide you on how to run a 7 figure monthly business running solely on email marketing to know exactly what to do to turn these prospects or mere customers into addicts
Let me show you exactly what you will be getting…
This live program will take place in the duration of 2 weeks,
We would have 7 classes, 7 Days across two weeks
DAY 1: Dear Business Owner, You're Your Business First Marketer (Fundamentals Of Owning A Profitable Business)
Marketing and sales are the bedrock of your business not branding and all that, you need to consistently bring in customers and money and to that you have to understand that marketing starts from YOU.
Subtopics here are:
The Unchanging Nature Of Your Customers

The Reason You Need An Irresistible Offer And How to craft one that will make your customers beg you to pay you
Amongst others
Learnt this in passing on my emails, imagine in-person in a LIVE coaching program
DAY 2: The Sales Funnel Secrets Of Turning any Traffic Source into My Own Personal Honeypot of Hyper-Profitable Endless Sales 
Lead Generation

Nurture sequence

Value Ladder
Amongst others
DAY 3: The FIVE Principles of Persuasion and Influential Communication
You need to understand that when dealing with your customers, it is all a game of persuasion and psychology
Humans are very emotional beings and every decision we take is largely dependent on emotions.
We buy with emotions and justify with logic.
More on this later, but understanding this alone could be all you ever need to change your financial story.
These three days will lay the foundation of our program.
DAY 1, 2 & 3 will set us up to the email marketing coaching program proper which will run through the remaining 4 Days.
How to program your brain to come up with content ideas for your emails that not only teach your customers but sell to them
The importance of storytelling and how to use gossip value to your advantage 
The Human Attention Battle
The Hypnotic subject line creation process:

It is one thing to send a powerful, entertaining email, it is another thing for the customer to open it. 
The subject line or headline of your email is what determines if your prospects open your emails or not, I will show you how to write great subject lines that make them open your emails unconsciously.
A small change you can make in the way you present your emails that can double your sales from a single product
The sales-generating power of the soft-sell P.S
The seamless transitioning from interesting story or rant to sales:

The best form of selling is when you catch your customer entirely off guard her defences are low… You strike.
All these and many more.
You know, it is one thing to deeply understand a subject, be very good at implementing and getting results…
And it is another thing entirely to be capable of teaching people in a way that will make them understand without headache
I developed a methodology that will seamlessly help you learn this in no time
Or more interestingly, I copied a learning strategy that you have been using since kindergarten.
See what some coachees of mine have to say about my teachings…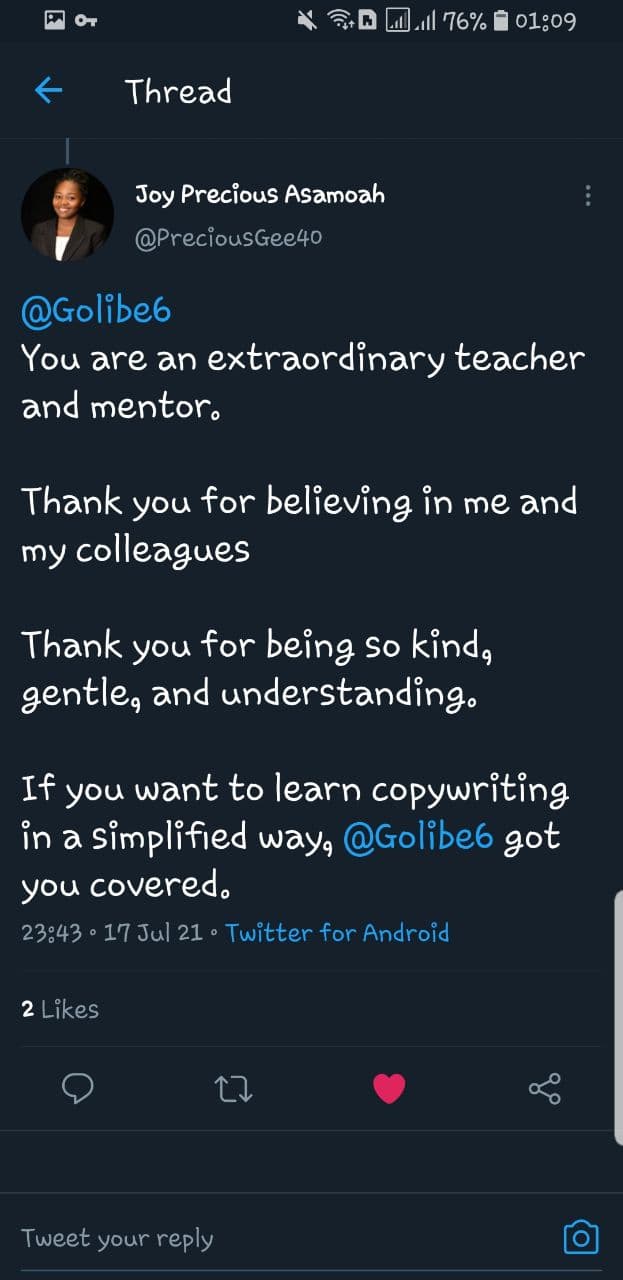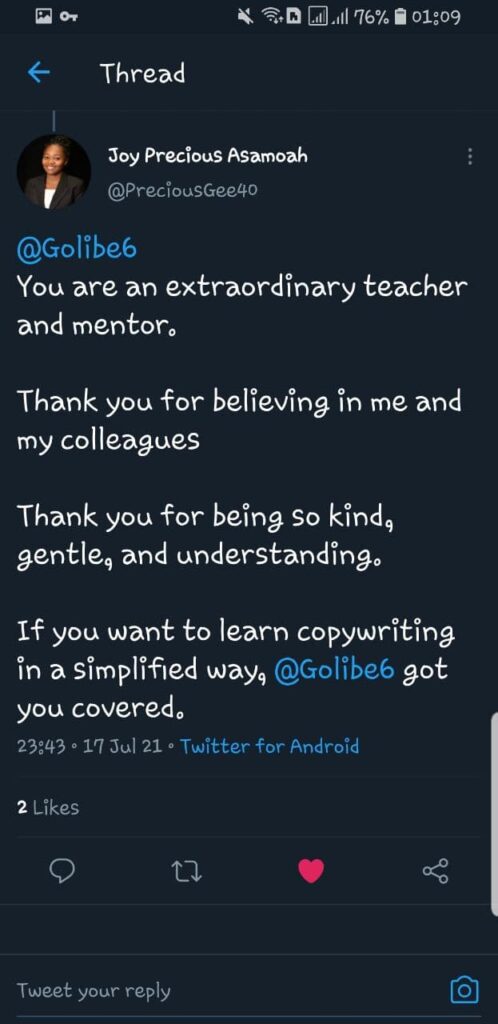 This learning strategy is the schooling system you have been programmed to use to learn since you were 6.
Visualize

Personalize

Practicalize
Right from secondary school you have been taught to come to school, sit in class and pay rapt attention as a teacher demonstrates on a board (Visualize)
After that, you give textbooks to go read and internalize or in easier words personalize what you have learnt and read in a way you will understand (Personalize)
Then finally, you're brought into the laboratory to test what you have been learning all them. It could be the workshop or farm… Depending on the subjecting but at that point, you're bringing whatever you have learnt to live and that experience differs from everything else. (Practicalize)
This is how your brain has been programmed for:
2 years – Nursery school
6 years – Primary school
6 years – Secondary school
This is 14 years of programming of the human brain.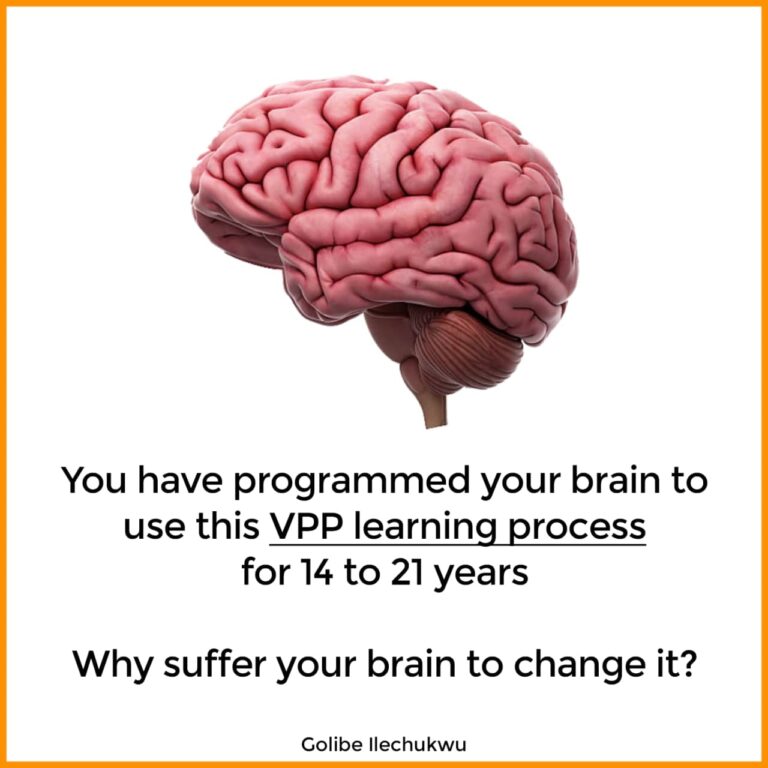 When you're given only courses or told to go read books, you are being left to stand on one leg.
The reason you have taken those courses and they have not worked is because those courses only teach you one of the VPP learning process which is the personalizing process.
The 2 week Total Control Program will deal with these 3 processes effectively.
V- Visualize: We would have zoom live sessions where I will be breaking down the fundamentals of marketing before transcending into email marketing (like your teacher thought you on a board)
P-Personalize: I will be giving you a course with workbooks and we would go through it and break it down (like you were given textbooks in secondary school)
Finally,
We will also go into a detailed practical session.
Starting from breaking down emails that have brought in millions.
We will ask why.
Why did this perform so well?
Why did this bring in millions? Why did a lot of customers become addicts after this particular mail?
We would dissect them into bits so you will understand the anatomy of a 7 figure email campaign.
THE 7-figure Email Marketer and the Email Cheatsheet
This course on its own is capable of earning you your first 100,000 naira effortlessly from email marketing.
This combo has been sold for 10,000 naira and has brought in numerous results.
Here I will give you some formulas like:
The AIDA Email formula to writing emails that sell like wildfire
Secondly, I will be giving you 50 of my best-performing emails
My emails are considered world-class educational material on marketing and business.
Over $10 Million-marketer, the American Donnie Bryant has used my emails as case studies in his groups and sessions.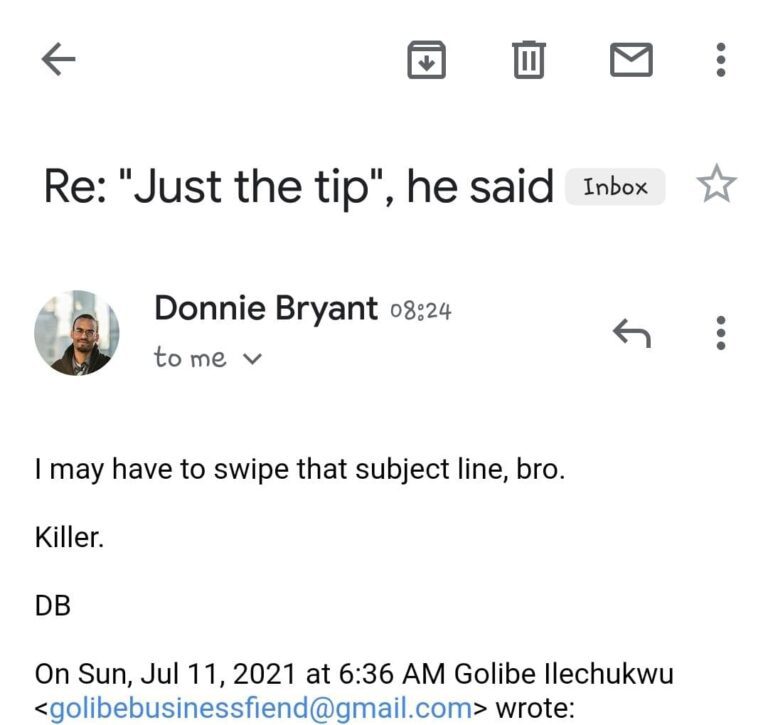 I will give you a cheat sheet of 50 of them which you can use as a template.
Just Copy, Personalize and Paste… I will show you how to do that.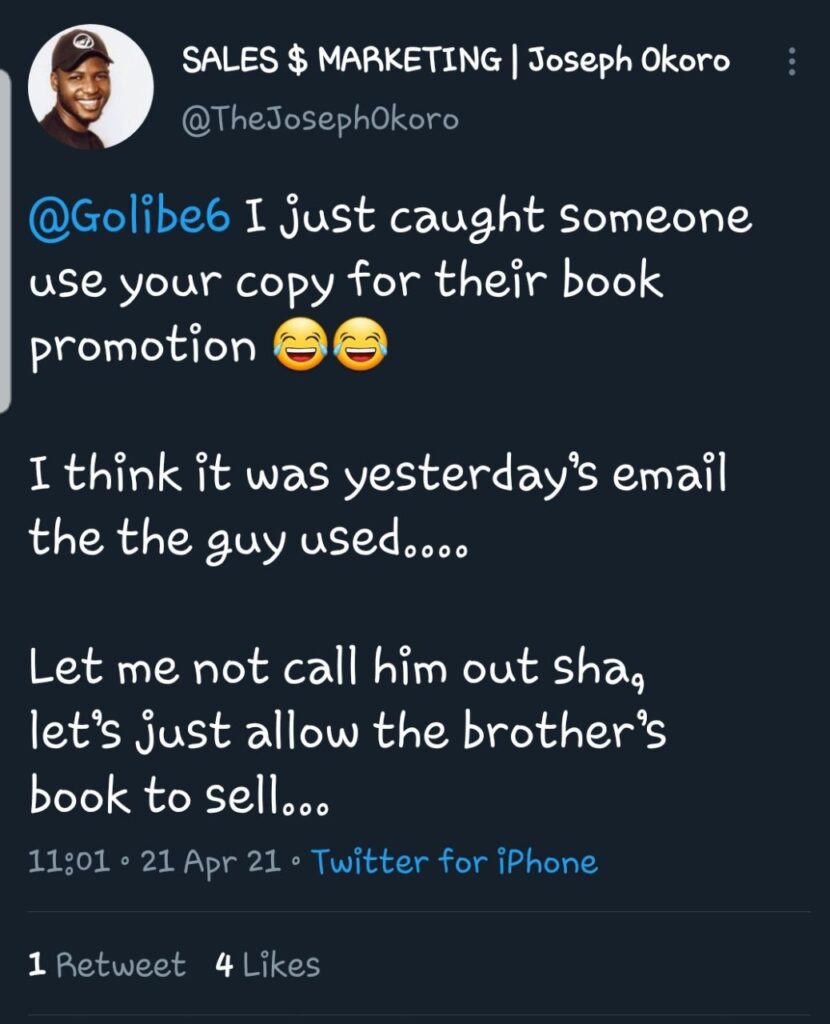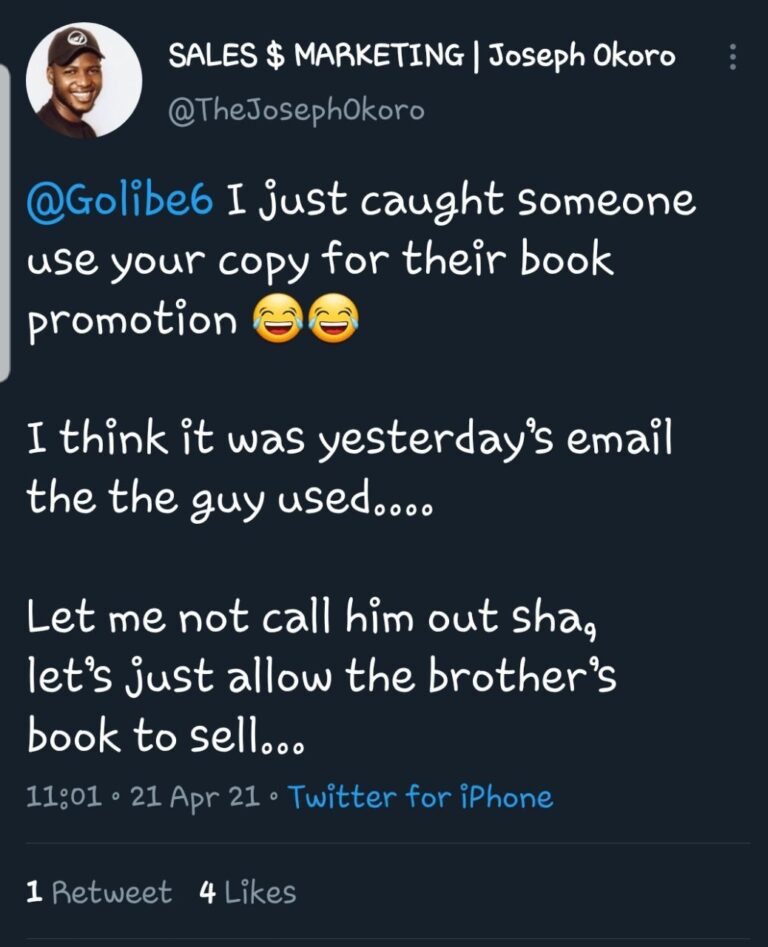 Emails so good that creators steal them to promote their book. Not once or twice. I have been stolen from a lot
Now, you might be wondering how much this will cost, considering everything you will be getting, it would be hard to place a particular finger on this.
I have had companies call me to educate their staff on what I will teach you from DAY 1 to 3
This cost 100,000 naira for 3 days meeting.
Some business owners don't know this, but your staff is the first ambassador and advertisement for your business so you need to mentally equip them.
That's by the way.
Then the other days of this coaching program can not simply be quantified in value but let's do a barest minimum quick math…
I charge $500 to write 10 emails and in the course of this program, I will not only show you how to write emails using one of your businesses as case study, I will break it down in details why it is so.
But let's not push it, let's keep it at $500.
Employing me to work for you as a marketer and copywriter costs nothing less than $1000 but here I am not doing any personalized job for your business..
I am simply consulting for you like I did for Aproko Doctor and others.
Each hour session of my consultancy is worth 20,000 naira.
And over the course of this program, we would how be hitting 20 hours of live consultancy.
That is 400,000 naira in consultancy fees if you were to pay for this.
But let's leave that out since we are working on barest minimums…
The 7 figure Email Marketer & Email Cheatsheet Combo has been sold for 10,000 naira in the recent past
Some quick maths of the amount of estimated value you will be receiving in the barest minimum…
 100,000 naira (Consultancy for only the first 3 Days)
+  $500 (Charge for writing 10 emails without even breaking it down)
+ 10,000 naira (Cost of purchasing The 7 Figure Email Marketer & Email Cheatsheet Combo)
If we were using 400 naira to $1, that would be, 200,000 naira
100,000 naira + 200,000 naira + 10,000 naira = 310,000 naira
310,000 naira is the barest minimum value of this program.
But you wouldn't pay that.
Or even 10% of that.
You will simply be paying 10,000 naira to gain access to this risk free program.
Risk-free?
Yes, NOTHING here will cost you a naira in actual sense until you are sure you have received your money's worth.
There is a 100% Money Back Guarantee attached to this program.
If in anyway after purchasing this program and participated in it to the end, you feel that you have not gotten the value you paid for,
You will be refunded immediately.
Just simply send your complaint to:  golibebusinessfiend@gmail.com
And would be refunded immediately.
You're not bearing any financial burden.
You're not taking any risk here, the risk is on me to deliver or refund you your hard earned money.
It is all on me.
So click the button below to gain access to this program risk-free.
Once you have made your payment, you would receive an email with an unmentioned free bonus here,  only if you book a slot today..
Let's discuss something deep real quick,
You see this money you're about to pay compared to the value I will be giving you is such a bargain coupled with the fact that I will be bearing all the risk since if at end of the program you don't find the program worth your money,
You can ask and you will receive it back without any questions…
You see, I am giving so much value for that price and having the whole risk on my shoulders intentionally…
Here is the honest reason,
I charge at least $1000 for a sales copy and at least $1500 for running a full stack marketing campaign.
My aim is to get just 2 people out of the few business owners that will lay their hands on this give away program.
2 people that would raise their hands and say, this is no longer about the numerous testimonials Golibe has, I witnessed it first hand myself, Golibe is a genius and I want to pay him $1500 to work for my business.
That's it.
That is why I am doing this at this ridiculously low price which is risk-free and yet giving so much value and time… LIVE.
Not prerecorded or a course.
The aim is to give so much value that you will get a DM like this after a coaching program…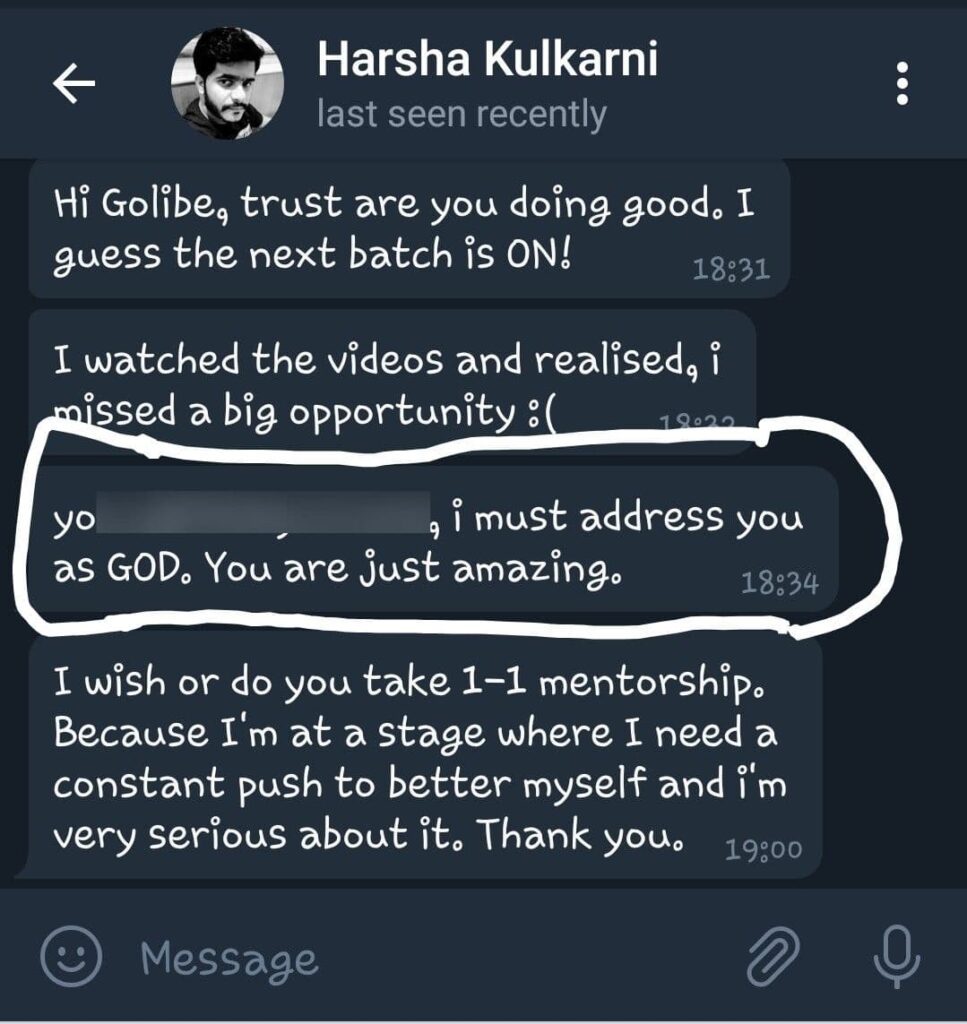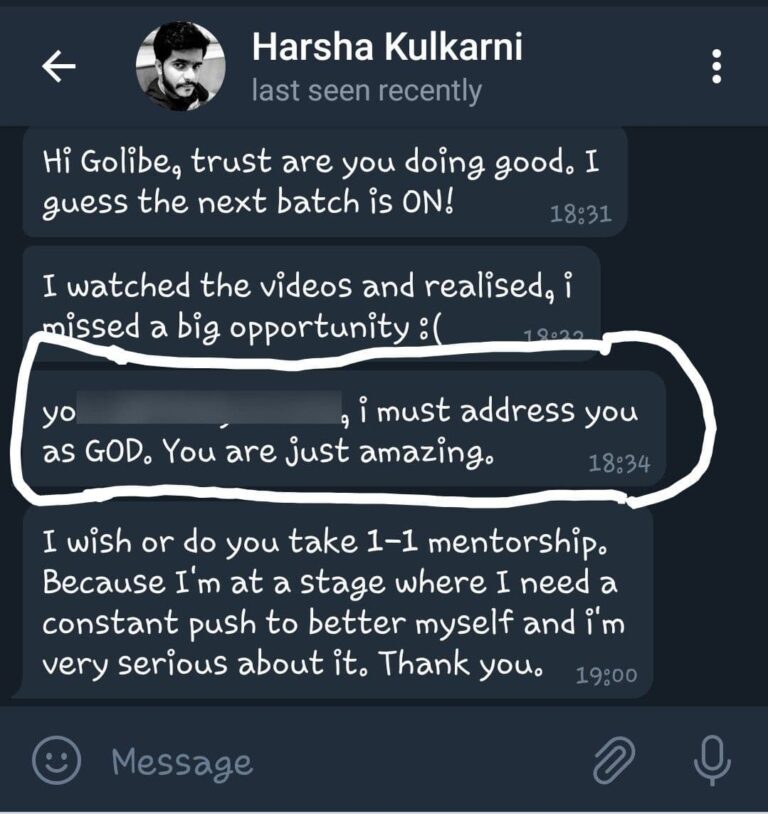 My 1-on-1 marketing/copywriting mentoring program is a helluva money
Special Bonus: One Year Email Consultancy
After this coaching program what next?
I would be sending you emails at least twice a week for the next one year teaching you marketing, sales, persuasion, empathy and any skill required to bring in a torrent influx of customers, nurture them and continuously take money from their pockets (selling never stops)
We would be have Question and Answer sessions in our coaching sessions but even after the program,
If you have any question in your business, just reply to one of the mails I would be sending you once every two days (at least)…
And I will answer your questions and give you advice from a marketing head.
This email consultancy costs 5,000 naira ($10) yearly, but you will be getting this for FREE.
All these for 10,000 naira.
If you don't take this action today, it is fine, you go back to your life dependence on another man's platform and the risk of losing your business to the Nigerian government or to one policy any day at any time
You go back to getting the usual amount of sales you do monthly.
You could go back to leaving your customers at the jaws of your competitors.
A lot of people think business is just a calm thing you do to earn a living…
Business is war!
The reason you're not making quantum sales right now CONSISTENTLY is because your competitors are breathing your neck.
There are always awake thinking of how to steal your customers from you. This is serious business.
Business is serious business, it is a marathon but still a competition, if you sleep you lose.
Take Charge today before the slots are filled up.
See you inside.
PS:
The only thing I would not tolerate is laziness. I am ready to put my all into this program, but if you don't implement everything inside, everything would go to waste… It takes two to tango.
This is exactly why this program is not free, the price is a filter.
So if you will not be available please don't pay.
There would be recorded versions of the LIVE sessions though so you can always go back to watch them.
You would have an exclusive link to the YouTube video (only for people in this program)
If you have come this far, I must commend you. By now, you should know that email marketing goes beyond taking control of your business and multiplying sales…
Infusing email marketing into your business after this coaching program will solve the following problems to the detail:
If you own a business and you're struggling to make sales, consistenly, like you get 3 sales today and nothing in the next 15 days.

Or you land one client today (for service-providers) and nothing in the next 2 months.

Or you launched a new offer and nobody is buying

Or you sourced for a new product and you still haven't made any sales

Or you were making sales before but all of a sudden,
Everything stopped working.
Or you're already getting results,
But you want to take your business up a notch…
New revenue highs,
Then this program should be something you should consider
While the offer is still available…
The recordings of this training has been made available.
And you'll get instant access to all the training videos that span across 2 weeks as soon as you sign up for the New Email Marketing Live Workshop that will hold on Saturday 9th October, 2021.
Click any of the links page to get instant access to this training and the live workshop.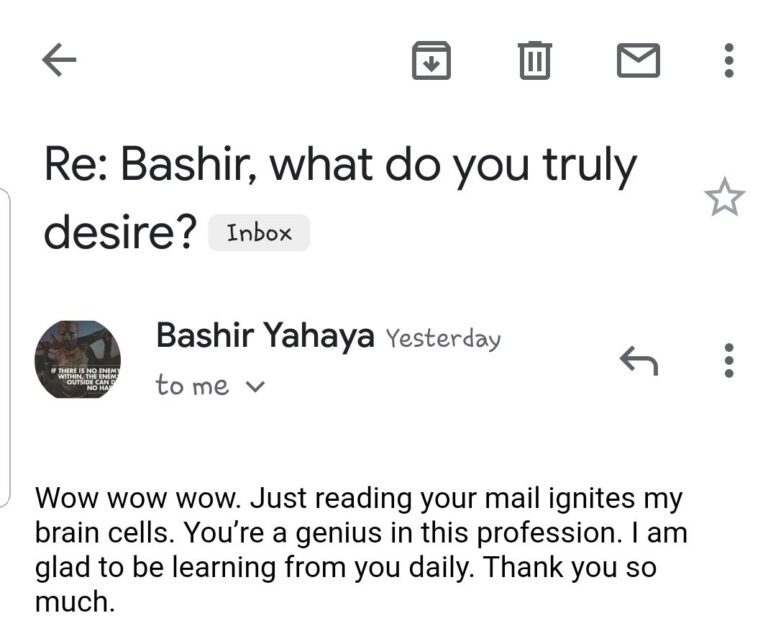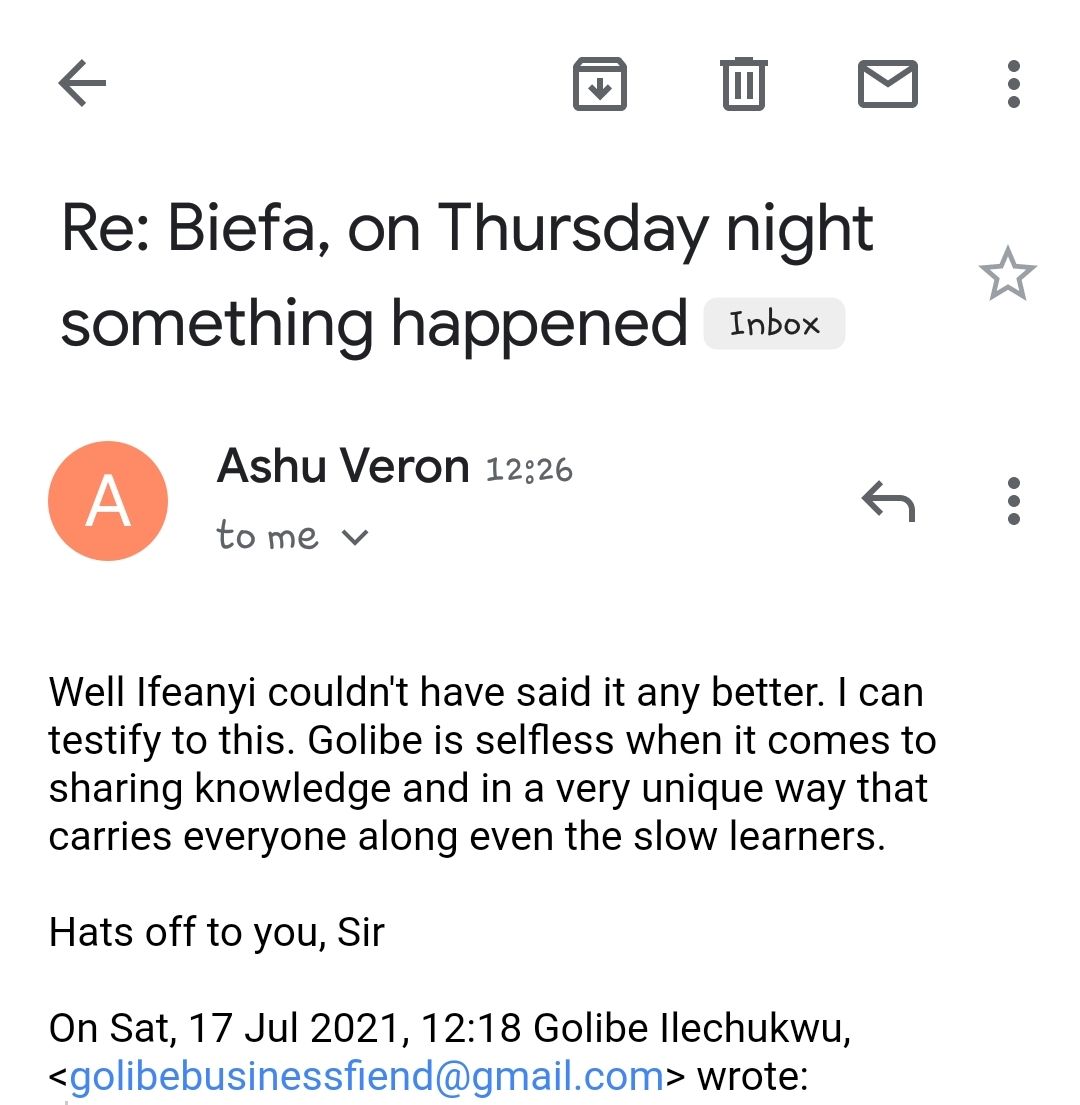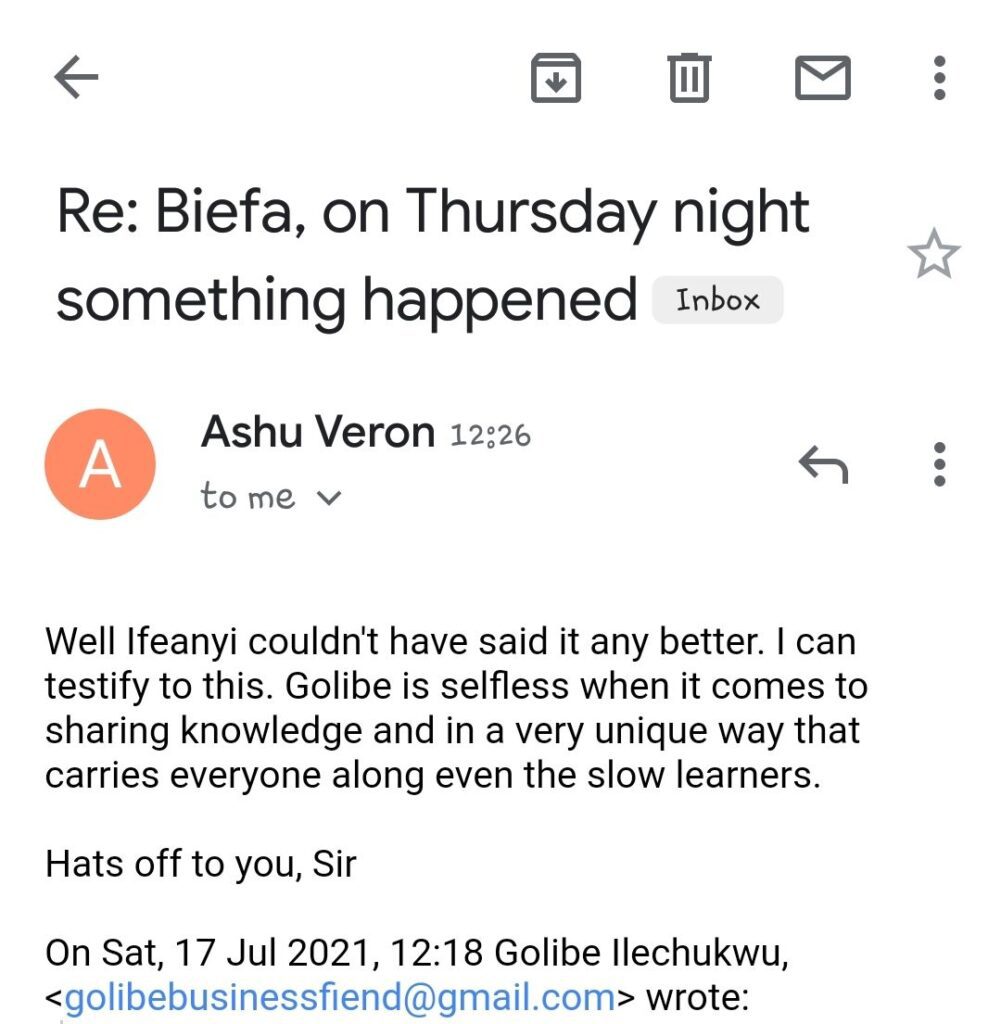 Golibe is insane, he got god's surgical touch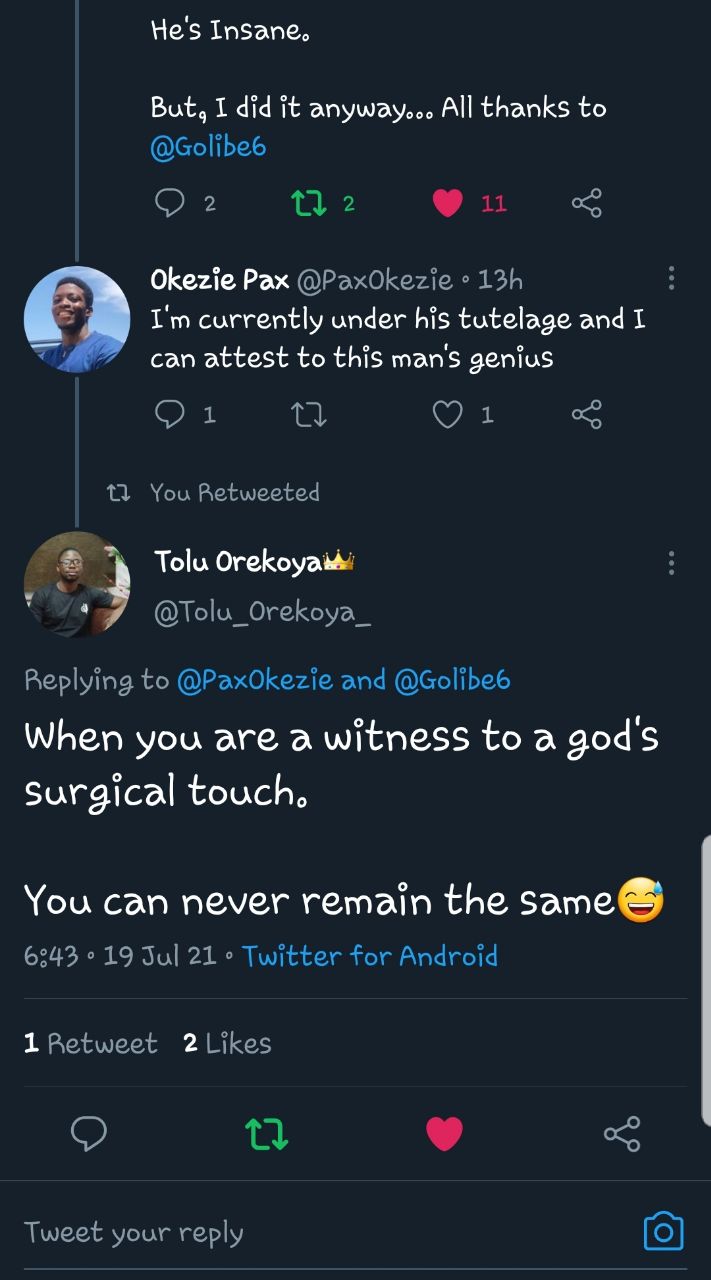 I have always heard of you…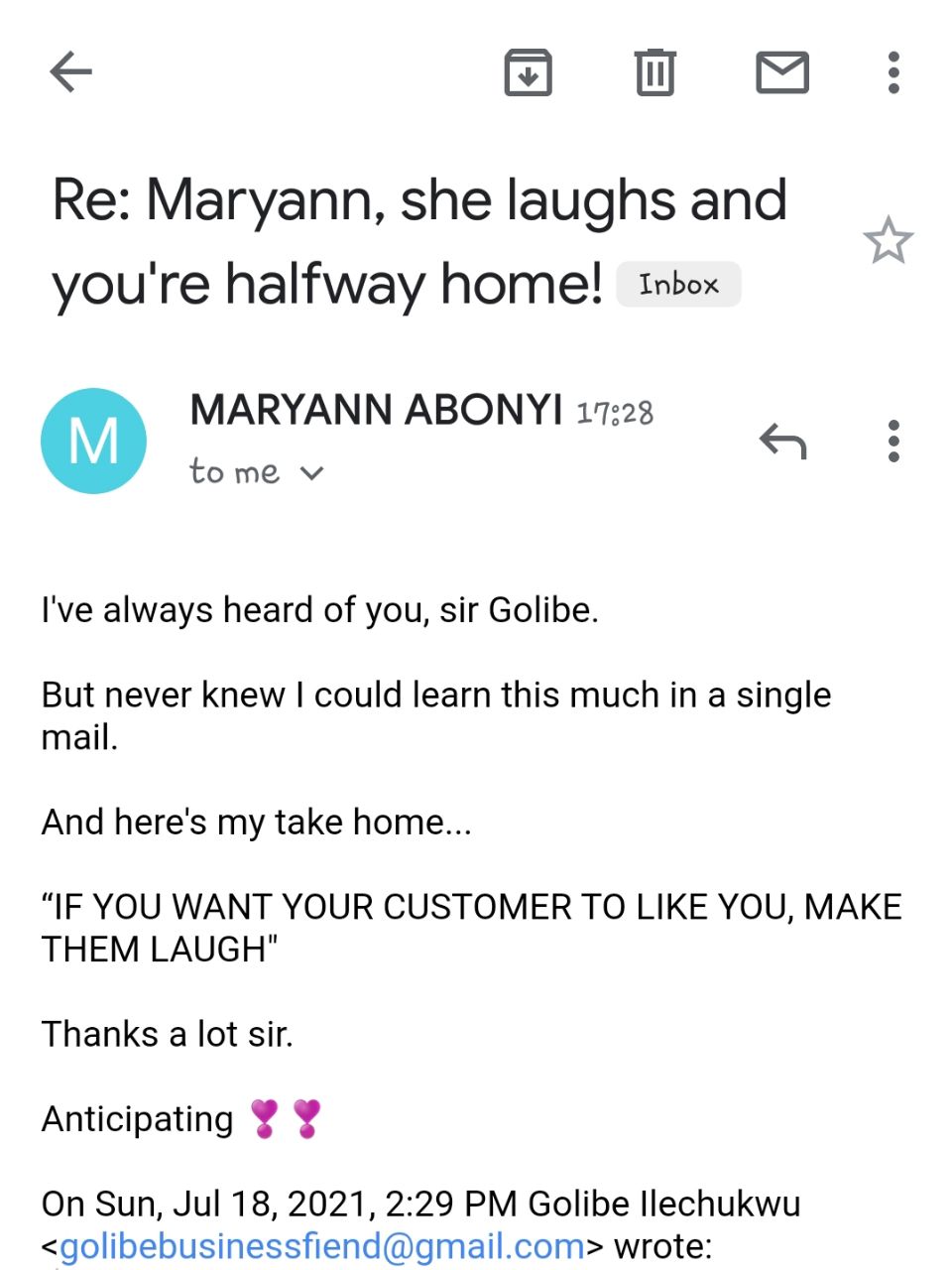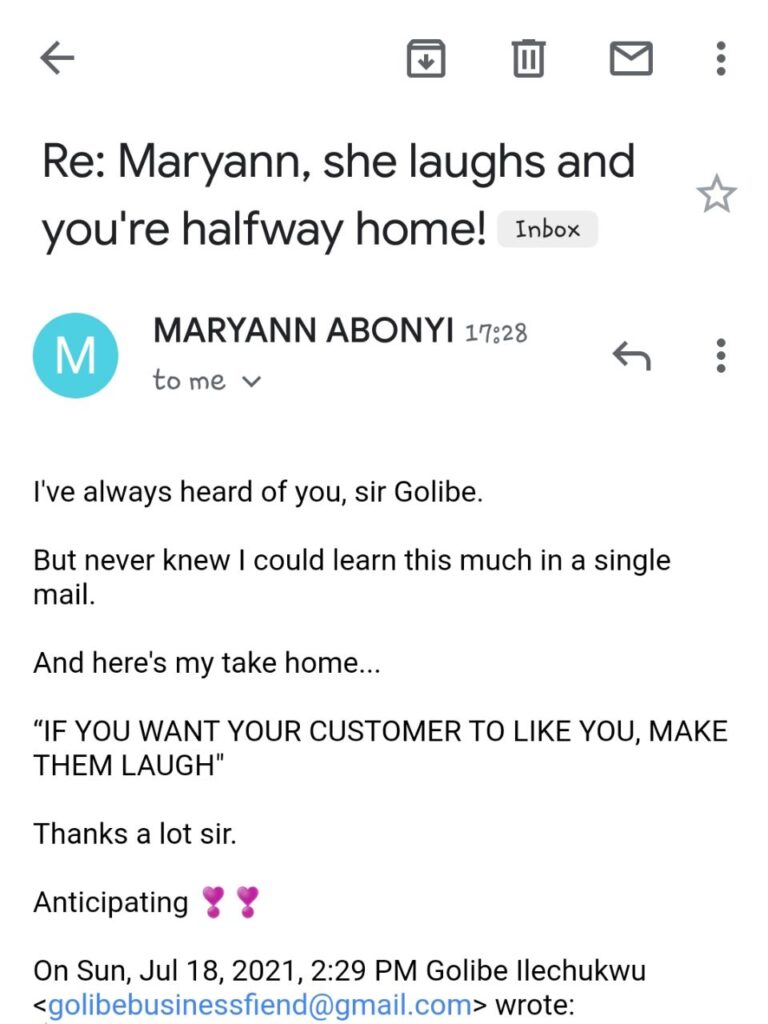 I have heard a lot about you…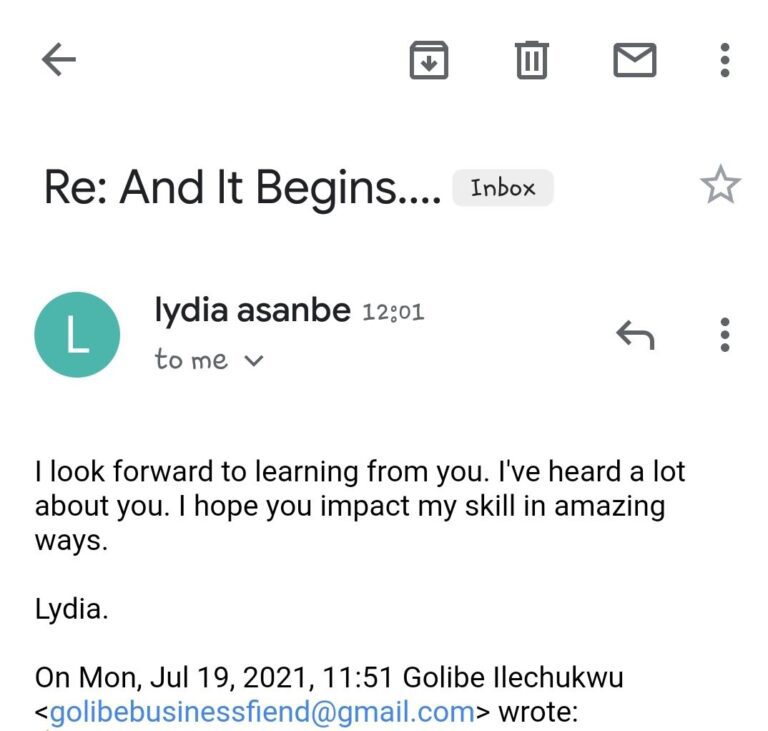 The real gem in this email thing…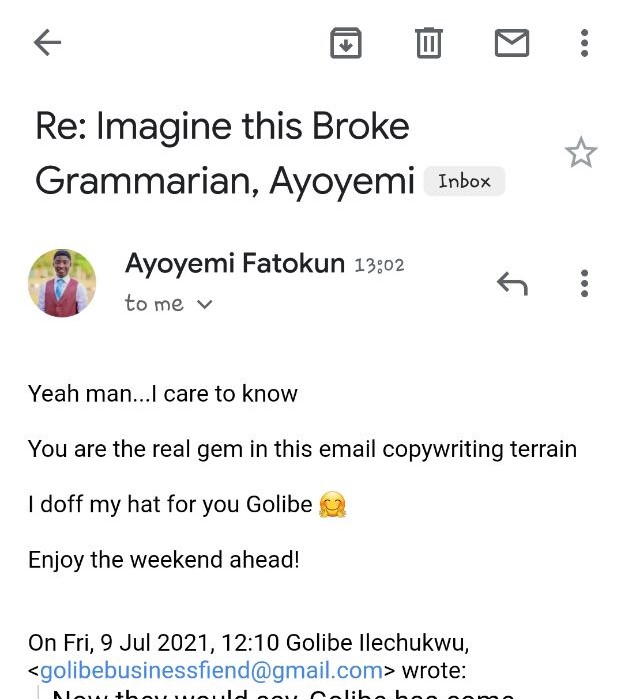 "Golibe did a great job for my brand. I was so impressed."
" One thing about Golibe is the way he simplifies this marketing thing, Everybody understands when Golibe teaches marketing"
"Getting Golibe's services should top the list of one of the best things in the world. His copywriting skill is commedable and it is something anyone that is starting up would surely need"
Finally, world-renowned business thought leader has this to say about email marketing….
"If you've been ignoring email marketing, it's time to reevaluate your strategy.
Email marketing delivers huge returns for business owners willing to learn how to do it right. It doesn't have to be too complicated."
Neil Patel
The ball, is in your court